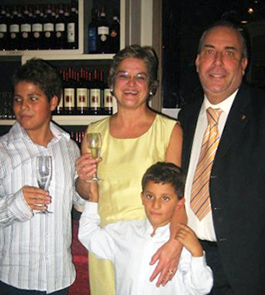 Who's the manager?
Fabrizio is a family man, father of two children. But he's also the manager of a governmental authority and he volunteers as president of a non- profit organisation named AMKA (www.amka.org) which realises responsible development projects in the Democratic Republic of Congo and in Guatemala.
Distinctive features:
active, able, tireless and with a real passion for pizza.
a perfect mix of "friendliness and competence".
keen on cooking, especially traditional roman recipes, as well as fish courses!
loves the sea and Africa.
skeptical about any kind of physical exercise.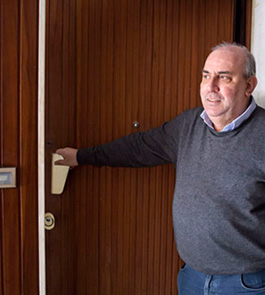 How did the activity start?
I'm in love with my city and with its cooking. Being in contact with the people who will take advantage of the services offered by Garden House Holidays, will allow me to realize one of my dreams: to show the culture and the traditions of my city.
While starting the activity, the first step was to rebuild with maximum care the flat and the garden in order to make it simple and functional with the help of a young architect from Rome: Valentina Frasghini.
Later I started to plan some extra services, to offer to my guests the ideal conditions for a great stay in Rome. I started with a question: what I would like to find in a holiday house in another city? Eventually I fulfilled a dream of mine: cooking for others in a professional way. 
Principles & values in the management of the flat
1. HOSPITALITY
Making you feeling at home is essential for us because we believe in hospitality. Courtesy and cordiality will be the distinctive features of the relationship with our guests. 
2. RESPECT
Respect for our guest and for the individual differences is essential to us, and it's the base on which we build our offer to make it fit for the needs of every single guest.
3. EFFICIENCY
We work very hard in order to fully satisfy our guest's expectations, whenever we can, and we try to offer a flexible, well organised and efficient service. 
4. QUALITY
We care a lot about the communication with our guests - listening to their opinions and needs allows us to offer a high quality service and to make our offer more appropriate. 
5. ETHICS
Our professional ethic makes us offer always true and transparent informations. We always give our best to increase the reputation and the reliability of our service.
6. HYGIENE
It is essential to us to ensure a clean and hygienic environment. That's why we employ a professional cleaning service for the laundry and the cleaning of the house.